In the spirit of celebrating creativity, we ask talented individuals around the globe to fill our q&a on whats and hows of their creative process. This episode is hosted by Israel based fine-art and product photographer – Sivan Roshianu, whose surrealist approach turns everyday objects into hypnotizing canvas. 
How would you describe what you do?
My photographic language is characterized by precisely staged razor sharp images and a hyper realistic look. The effect is accomplished by using light to create shadows and highlighted textures. Depth and composition are also important elements in my work. Similar to the level of details apparent in renaissance still life paintings does my work highlight the slightest details. The longer you stare at the image the more information it divulges. Overall the concept of my work is about opposites with clean aesthetic on one end and complete chaos on the other.
How did you get started?
The white series photographs of everyday objects came from an experiment with the new lighting equipment I bought during the pandemic. As an artist and a photographer I constantly push myself to improve and push the limits of what's possible. But the pandemic restricted my outside activities, so I had no choice but to create something I had at my disposal at home and at the supermarket. The photographic style that evolved from this period helped transform the elementary objects into something more interesting and gave them a bit of an attitude or a personality.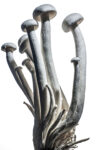 via www.roshianuandmoloko.com
A strength or skill you value most:
Consistency and patience. One of the most exciting sights I had the honor to witness was a butterfly hatching out of a cocoon – I waited for several hours on set – staring at it and waiting for the right moment till it happened.
One of your favorite projects you've worked on:
An international campaign for a well known American makeup company. Though it was very intense with a really tight schedule I enjoyed the whole process because it was a sort of a fantasy in space, so I had the chance to even best myself and be more creative than usual.
Which phase of the creative process thrills you the most?
I am also a photographer for a weekly column in one of the financial newspapers in Israel that dealt with thoughts about food – and every time I receive the list for the next issue I have to find a way to illustrate the idea in one picture – as soon as the readers get the title of the article and look at the picture they would understand what it is about.
What sparks your imagination?
Almost everything 🙂 A certain feeling, music, but mostly the irresistible desire to create.
Three things you need to get into your creative comfort zone:
My studio must be clean and tide, I'd rather be alone while working in a quiet environment.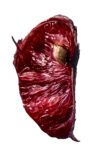 via www.roshianuandmoloko.com
Do you keep to a particular daily routine to let your creative juices flow?
I wish there was a secret formula for this 🙂 In my case I think I can say that a short morning walk in my neighborhood can stimulate my mind to create 🙂
A book, movie, exhibition, or podcast you recently found inspiring:
One of the most beautiful and unforgettable events I experienced while I was David LaChapelle's exhibition I visited as a very young and ambitious photographer. I was stunned to see those artworks in large formats and reveal all the details as long as I stared at them  Then I knew deep in my heart – that's who I wanna be 🙂
Sivan Roshianu, self-taught fine art and product photographer who lives and works in Israel. Her early interest in and passion for photography quickly turned a hobby into a full-fledged profession where she developed a unique and distinctively bold photographic language. Original concepts and a bold approach characterize Sivan's work and transform her signature style of bright colors, utter precision and a minimalist and a clean look, into a recognisable statement. Her ability to humanize objects by giving them a form of expression has turned her surrealist style into her trademark.
Follow roshianuandmoloko.com and @sivanmolokoroshianu for more Sivan's works